Fixing Home Hair Jobs: What to Expect at Your Next Salon Appointment
July 15, 2020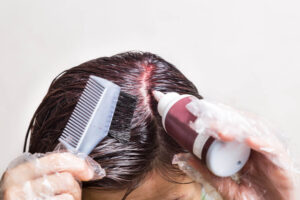 During the depths of the Coronavirus lockdown, we know that the temptation was probably there to cut your own hair or colour your hair to maintain its salon-dyed colour.
And since things have started to return to their 'new normal', we understand that many people are still out of work and unable to afford their usual beauty and hair appointments, which may have led to a few home box-dye jobs over the last year.
Whilst we do not recommend attempting at-home hairdressing on yourself or others, we understand some people were doing the best they could with the situation we were all thrust into and thus, will be needing some fixes done once they get back into the salon
We've pulled together some tips on what to expect at your next salon appointment with your hair stylist in Perth.
Top Tip: Tell the Truth
The most crucial thing you can do during your first appointment back with the best hairdresser in Perth at Chilli Couture is to tell the truth.
There is absolutely no benefit to you or to your hair stylist in Perth if you don't give us the full rundown of what you did and when.
As hairdressers, we need to know key things such as:
When did you apply the hair dye?
What type of hair dye was it (permanent, semi-permanent, peroxide)?
What products have you been using on your hair since (shampoos, conditioners, treatments)?
All of these variables will impact how we can fix your hair, particularly as some at-home hair colours are notoriously hard to lift from the hair without breakage.
Possible Salon Outcomes
If you have done an at-home dye job or haircut over lockdown, you need to be prepared that while our work as hairdressers in Perth is quite magical, we can't always 'fix' an issue in just one appointment without seriously damaging your hair.
Below are three of the most common scenarios you may encounter during your first appointment.
We May Be Able to Fix It Without Much Issue
If your at-home attempt was just at a haircut, we may be able to cut some style and shape back into your hair at your first haircut in Perth back at our salon.
In the case that you attempted at-home hair dye and your hair is still in a relatively healthy condition, we may be able to correct the colour without much further damage.
It May Take Time to Correct
Whether you were trying to hide your regrowth, banish some grey hair or just give your hair a bit of a new life during lockdown, adding strong permanent dyes or bleach to your hair without education around the hair colouring process can result in patchy, uneven and overall damaged hair.
Therefore, you need to be prepared that an at-home experiment with the hair dye may mean that you require full colour correction session.
Colour correcting sessions are LONG sessions, especially when dealing with uneven box dye, as even the best hairdresser in Perth would need to correct sections of the hair bit by bit.
And even with the utmost care taken with your hair, box-dye does some funny things to the structure and appearance of your hair, which can make your hair unpredictable as we try to lift the colour.
You May Not Like the Answer
Box dyes and off-the-shelf hair shampoo and conditioners can leave hair incredibly damaged and broken, as box dyes change the chemical make up of the hair by staining the hair proteins.
When hair has become damaged beyond a certain point, undertaking colour correction (such as bleaching your box-dyed brown hair) could lead to your hair breaking off in clumps right before our eyes.
We assess each person's hair on a case-by-case basis, so we may advise you that we cannot lighten your hair at all or the best we can do is an intense hair treatment to begin to repair your hair structure first.
Trust the Best Hairdresser in Perth – Trust Chilli Couture
At Chilli Couture, we have a team of passionate, highly skilled hair stylists in Perth that are committed to caring for you and your hair.
As a chemical and cruelty-free salon, we take great pride in helping you to navigate your way back to your ideal hair post-COVID-19 lockdown – we promise to do our best to provide you with the knowledge, products and hair care to get your hair back to its usual lustre.
Pick up the phone (9328 8814), send us an email or fill in our booking form to chat to one of the team at Chilli Couture today.
Find Us On Facebook & Instagram!