Are Box Dyes Really That Bad?
May 14, 2019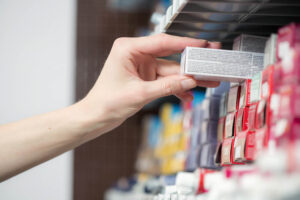 Maybe you haven't managed to book in for your well overdue hair appointment and the temptation of the supermarket box dye special is just too tempting, or maybe you feel like your hair needs a drastic change!
Whatever the reason, many people find themselves reaching for the box dye to dye their own hair instead of visiting their hair stylist in Perth. You know, because the model on the box has your ideal hair colour and it looks like it was done professionally (probably because it was).
And while buying and applying the box dye may seem relatively harmless, you should be aware of all the problems that can come with that quick, cheap fix.
Box Dye Isn't "One Size Fits All"
They suck you in with phrases like "vibrant shades", "hi-shine", "rich tones" and "luminous highlights" but what the big supermarket brands don't explain is that one box dye isn't going to be suitable for every hair shade and type.
In order to make box dyes appeal to the majority, the formulators of box dye add the maximum amounts of pigment and ammonia to guarantee you will see a difference. Unfortunately, the high amounts of ammonia and pigment can be incredibly damaging to your hair, especially with prolonged use.
Another problem with the "one size fits all" approach is that everyone's hair is different – from hair condition to pigment and history; certain chemicals in hair dye can have a chemical reaction with other hair products you have used, so it is worthwhile playing it safe by visiting a hair stylist.
A qualified hair stylist in Perth will individually assess your hair and discuss your hair history, querying any products you use, how often you wash it and other factors to determine whether a colour should be applied.
Unpredictable Results
We all know someone who has experienced a DIY hair disaster, or at least seen one on social media. It might have been someone with brown or black hair who tried to give themselves a balayage and ended up with a nasty, uneven shade of orange, or someone who tried to lighten their hair, only to fry it and have the hair break off!
From a mile away, a hair stylist could tell you why using a box dye to make a significant – or even seemingly insignificant – colour change is a bad idea.
Hair stylists go through extensive hair and colour training to learn and perfect the hair dressing craft to minimise the likelihood of unpredictable results.
On the contrary, the average client using a box dye more than likely doesn't understand that the colour on the box won't necessarily turn out that way on their hair.
Flat, Boring Colour that Lacks Depth
There is a reason that applying a head of foils in the salon can take hours, especially if you have longer or thicker hair.
Depth and dimension make your hair colour pop and make it look more natural, but to achieve this, it requires much more than just a box dye and a set of instructions.
Prior to colouring your hair, a hair stylist will also take into account your skin tone, how you wear your hair, how often you want to visit the salon and other factors to determine how to achieve the best appearance and dimension with your hair.
Damage and Potential Hair Loss
No matter how conditioning the product claims to be, box dyes are a chemical cocktail that can be incredibly harsh on your hair.
Box dyes come often use high amounts of ammonia, which aggressively opens your hair's cuticle and allows the colour to penetrate your hair.
Without being able to assess the condition and strength of your hair, among other factors, box dyes can cause serious damage to your hair, which may result in a shorter-than-anticipated haircut.
Relying On Hairdressers as a Back Up Plan
While most hairdressers work miracles on a daily basis, transforming clients' hair and their self-confidence in the process, there is a limit to just how far we can stretch our miracle work.
If you have fried your hair to a point where it is snapping off in chunks, or you have a head of unevenly coloured, orange-tinged hair after a failed lightening attempt, there is only so much your hair stylist can do to improve the appearance of your hair while the strength of your hair is compromised.
And even though that box dye may have been on special for $7.99 this week, a colour correction by a professional hair stylist will set you back considerably more.
Find a Hair Stylist in Perth for Ultimate Results
At Chilli Couture, we love what we do and we are passionate about helping our clients achieve their dream hair. We take hair care, colouring and styling seriously, which is why we are chemical and cruelty free! We're not bragging (yes we are), but Chilli Couture was also the first Sustainable Salons salon in Western Australia!
So rather than picking up the box dye, pick up your mobile or head into our salon today to let our incredible team of hair stylists in Perth work their magic on your locks.