Looking After Your Hair During COVID
May 30, 2020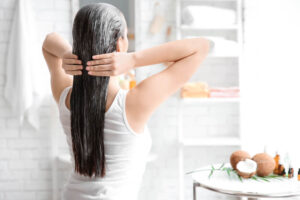 It's been a strange, strange year thanks to COVID-19, with many plans, routines and livelihoods changed by the pandemic.
We feel for so many in the community who have experienced hardship and struggle as a result of the lockdowns and changed way of life.
And we get it – there are much more important things to be worried about than your hair.
But we're here to give you some handy tips on what you can do from home to keep your hair in good condition until you can get back to the salon for hair colouring or a haircut in Perth.
Lack of Sunlight Can Result in Hair Loss
Your body creates Vitamin D from sun exposure, which is an integral vitamin within the body for maintaining healthy bones and absorbing calcium from your diet.
Vitamin D is also highly beneficial to hair, as it works to promote hair growth through the creation of new hair follicles, so getting less exposure to the sun each day may result in some hair loss.
It's important to note that being overexposed to the sun, resulting in tanning and sunburn, is detrimental and even damaging to the skin, so try to find a balance of around 10-30 minutes a day to get out in the sunshine.
Minimise Aircon Exposure
Aircon works by removing heat and moisture from the air inside a room and replacing it with cooler air.
While this can cool your body down, it can also cause you and your hair to become dehydrated as the air inside the room becomes dry.
Exposure to air conditioning doesn't just cause your hair to become dull and dry, it can also cause hair loss.
Invest in Good Quality Products
While the price point of the 'good' brands might be enough to turn you away, it is so important to use a good quality shampoo, conditioner and treatment on your hair to maintain the health and structure of your hair.
Products available at supermarkets tend to be full of parabens, sulphates and other nasty components that can build up in the hair and be incredibly damaging.
At Chilli Couture, we don't just provide haircuts in Perth, we also stock a range of retail products that are 100% Paraben and Sulphate free, 100% vegan and generally much safer and more effective on your hair.
Home Remedies
If you are experiencing delays with quality products you've ordered online, there are some DIY home remedies you can try to revitalise your hair in the meantime.
One of our favourites is a coconut oil and honey hair mask to repair your hair. It's as simple as:
Mix 1 tablespoon of coconut oil and 1 tablespoon of honey in a bowl.
Heat the mixture for 30 seconds in the microwave.
Apply the 'mask' from the top of your hair to the bottom.
Cover your hair with a shower cap and let the mask do its thing for around 20 minutes.
Rinse your hair out thoroughly and voila!
Avoid Home Hair Dye Jobs
While box dyeing your hair might seem like a good idea at the time, it can actually cause long-term damage to your hair.
Box dyes tend to contain significantly high amounts of ammonia and other chemicals, which are damaging to your hair and can cause skin irritation.
These dyes also work on a bit of a 'one-size-fits-all' premise, which is crazy as everyone's hair has different history, different tones, highlights and regrowth. How can a hair dye claiming to be a 'medium brown' truly look like a medium brown on every hair type that attempts it?
Leave Hair Colouring to the Experts at Chilli Couture
With COVID-19 restrictions now eased, our amazing team at Chilli Couture are ready to help you with your post-lockdown hair colouring and haircut in Perth.
Contact us today via phone (9328 8814), email or fill in our booking form to book an appointment with one of our experienced, passionate and caring team members. We can't wait to welcome you back into the salon.
Find Us On Facebook & Instagram!