Human Hair Wigs vs Synthetic Wigs: Which one should you get?
November 11, 2019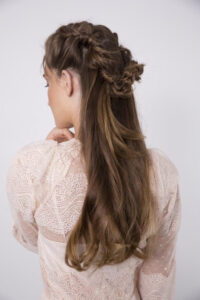 With an unlimited range of styles and colours to choose from, it's no wonder that more people are looking to add wigs to their wardrobe. Whether you have an existing hair loss issue, or simply love to experiment with your look, a stylish and long-lasting wig can be a great investment.
The biggest question is whether to opt for a human hair wig or a synthetic hair wig. The truth is that it depends on a persons' own requirements and preferences; from how realistic it looks and how durable it is, to the price involved. So, let's break down the differences between human and synthetic hair wigs to find which one is right for you.
What are human hair wigs?
True to their name, human hair wigs are made from real human hair that has been sold or donated. With a natural look and feel, human hair wigs can look just like real hair. The texture makes it incredibly realistic and easy to style, although it's recommended to have any changes like colouring or perming done by an experienced stylist to avoid damage. When treated with care, carefully washed and conditioned like real hair, they can last for up to and over 10 years with correct care by the wearer. Human hair wigs are hand made and as such are more costly. It's easy to buy a cheaper wig online however the purchaser should also be aware of the ethics of labour costs, most online wigs are made in China, India, Cambodia and similar countries, the labour is cheap and often workers are underpaid and exploited. The ethics of the sourcing of the hair is also difficult to track. Having a custom made wig made here in Perth with donated or ethically sourced human hair not only gives you a better fitting wig but also means you are not buying into labour exploitation.
What are synthetic wigs?
Made from a variety of strong artificial fibers, synthetic wigs are created to look and feel as similar to human hair as possible. While they cannot be changed – no colouring, or restyling – this can be a real timesaver as their set look needs no maintenance. In many cases you get what you pay for with synthetic wigs, and it can be worth investing more to get a more realistic look, and a longer life span. The other thing that should be considered is the pollution aspect as human hair wigs are synthetic (plastic) they do not break down in landfill and they cannot be repurposed as the fibers are not useful for anything else. When you consider the millions of synthetic wigs sold worldwide each year it becomes an important choice for those caring for the environment.
Which one should you get?
Choosing between human hair and synthetic hair wigs means looking at your needs and lifestyle, to see what would suit you best. For those who have low energy or limited time, buying a well-styled synthetic wig can be a good option. A cheaper price tag makes it easier to buy more wigs in different styles and colours to swap between when you feel like it. For those living in a warmer climate, synthetic wigs are hot and sweaty as they do not breathe at all, whereas a human hair wig allows the scalp to breathe.
For those who love changing their look and enjoy styling hair, human hair wigs can be a good investment. With their realistic look and feel, those who want a genuine look or are self-conscious about their hair, human wigs are best. Another thing to consider is allergies, or sensitive skin. If you have a concern about irritation from a wig then human hair wigs are the safer choice thanks to the lack of synthetic materials.
Why Choose Chilli Couture
So if you want to choose a custom made human hair wig then Chilli Couture is the plcae to go, Chilli couture has a strong environmental stance and as such does not deal with synthetic wigs. Chilli's director is one of Perth's only custom wig makers where all wigs are made to fit. Chilli Couture is on hand to help bring your hair dreams to life. With a highly trained team of passionate hair experts, each of the talented stylists loves to work closely with every client to achieve their hair goals. To learn more about what Perth' best hair salon has to offer contact us online here, or for more information or to book an appointment contact us on 9328 8814.
Find Us On Facebook & Instagram!