4 Reasons To Switch To Organic Hair Products
December 11, 2019
Think about it: you wouldn't consider using harsh chemicals on your plant collection, or your beloved pet, so why are we still using them on our hair?! With a growing movement towards health and wellness, many people are making the change from chemical to organic hair products with the understanding that natural is better. Here are just a few reasons to transition to organic hair salons in Perth that use natural hair products: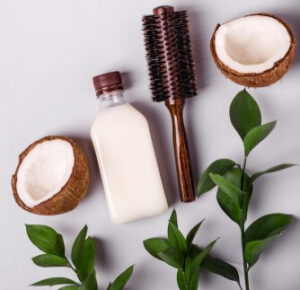 1: It's better for the environment
Once the harsh chemicals from hair products are rinsed out of your hair, they go straight down the drain with the water. Unfortunately, this means they often end up contaminating water systems, and eventually large areas of soil. Long term this has extremely negative environmental effects of plant and animal life, especially if the vast majority of people are disposing of these chemicals in the same way.
2: Safer to use
Non-natural hair products can contain such harsh chemicals as paraben, PPD, Resorcinol and ammonia, all of which can be harsh on skin and cause irritation and allergic reactions. Avoid the risk of getting itchy eyes, skin rashes, and even dermatitis, and choose the safe, organic option that is guaranteed to be gentle on your skin.
3: Healthier for your hair
When it comes to our health, we are all beginning to understand that we need to play the long game. While dodgy diet pills or extreme beauty regimes may give faster results, they can be detrimental in the long run. The same goes for your hair; just because a chemical treatment may give you the look you want today, it may wreak havoc on your hair quality in the long run. By selecting gentle, organic hair products are giving your hair a chance to look and feel healthy and strong for years to come.
4: Better Value
It's always tempting to go for the cheaper option when out shopping, but it's important to stop and think what that cheaper price tag can mean. Chemical hair products are often well-marketed and competitively priced, but the long-term price tag can be damaged hair. By investing a little more in quality, organic products, you're guaranteeing what you're putting in your hair has natural origins, making it much better value for hair and the environment in the long run.
Why Choose Chilli Couture
Here at Chilli Couture we are proud to be the first vegan and organic hair salon in Perth, and our team of talented stylists are passionate about high quality, organic hair care. We believe that fashion goes hand in hand with eco-sustainable hair products and have sourced the world's top natural colour ranges for our expert colourists to work with when achieving your hair goals. 100% of our hair colours are ammonia free, PPD free, Resorcinol free, biodegradable and non-toxic.
Looking for more information about our natural hair products, or have a question about our organic Perth hair salon? Check out the rest of the Chilli Couture website, or contact us here. To chat to one of our friendly team members, or to book an appointment, contact us on 9328 8814.
Find Us On Facebook & Instagram!