How To Achieve The Perfect Hair Bleach
March 27, 2019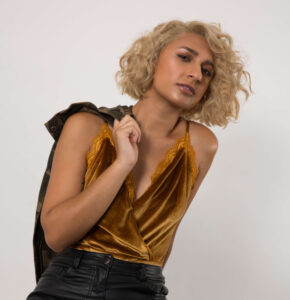 Katy Perry, Jessica Alba, Rhianna – they're all brunettes who've absolutely nailed the bleached blonde look. While they all have personal styling teams to achieve the seemingly impossible, the excellent news is so do you – our awesome team of hairstylists at the best hair salon in Perth: Chilli Couture.
Today, we want to show how to create the most head-turning, jaw-dropping, roll-out-the-red-carpet bleached hair that you've ever worn. The first stage is…
Do not attempt this at home!
It's so tempting, isn't it? But one bottle won't achieve the result you want. It's very possible you'll end up with a mixture of brassy tones with mismatched silver and yellow highlights, plus hair that's extremely brittle or may even fall out. We are experienced hairdressers who take the time so that it's not a shock to your hair or your expectations.
Which brings us to the next rule…
Consult Chilli Couture First
Changing from dark to blonde has a few consequences. The first one is the cost. It takes a number of visits to achieve the result. We'll work out what your hair goal is and if you're ready for the outlay. Then there's the upkeep which happens about every 5 weeks. Many clients also may need to reconsider their wardrobe, makeup or clothing as blonde hair can change the appearance of your skin's complexion. It takes a bit of planning and we can help you all the way.
How Much Time is a Great Bleach Worth?
Got a diary? No, seriously, grab your diary because a dark to blonde transformation, at even the best hair salon in Perth, takes a while. Based on medium-length makeovers, three sittings, up to about 3 hours each is the time you need.
Once you have completed the look you need to come back for regular touch ups in order to maintain the perfect bleach and this comes down to the amount of regrowth. The best amount of time in-between lightening treatments is 5-6 weeks – if you insist on anything sooner or later, there's a definite prospect of 'banding' where you get different colours of blonde at the roots.
Going Up! – The Seven Levels of Lift.
All up, there are 6-7 levels of lift (lightening) that can take place on any head of hair in one session. The reason it's such an incremental journey is your hair can only take so much lightening at a time. If you already have colour in your hair, prepare for the process of lightening to take a little longer. It's quite often achievable but your hair's alive – it needs to be nurtured through this major transition.
Only trust the best hair salon in Perth
Chilli Couture is proud to be the first Sustainable Salons salon in West Australia and we also provide 100% vegan products. We are chemical-free too while constantly producing the ultimate in hair flair, having just become a finalist in the 2019 Australian Hair Fashion Awards.
If blonde really has been a dream of yours, we can give you a head of hair that's so healthy, your own family will find it hard to believe you weren't born blonde. So if you're ready to set the tone in beautiful bleached blonde hair, we're ready to take you there. Call us today for your free consultation.
Find Us On Facebook & Instagram!