Why You Should Change Up Your Hair Care Routine for Summer
October 30, 2020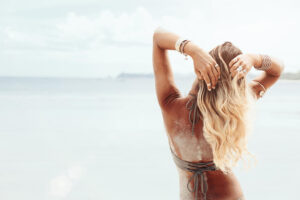 With a beautiful Perth summer just around the corner, you're no doubt preparing your plans for the beach, updating your wardrobe with more warm-weather-friendly clothes and hopefully increasing your sunscreen application when you head outdoors.
But have you considered changing up your hair care routine to give your hair some TLC as we head into the warmer weather?
Each season presents its own challenges for your hair to overcome, so your hair care routine should really change with the seasons to ensure your hair is getting the treatments and general attention it needs to stay healthy year-round.
How Does Warm Weather Impact Your Hair?
Much like the cold temperatures and lack of sunlight in winter can impact hair health, summer brings some problems of its own to the table. As one of the leading hair salons in Perth, we see hair damage resulting from summer-related causes and activities all too often.
Swimming at the Beach and Pool
Heading to the beach or enjoying a swim in a backyard pool is a standard part of an Aussie summer, but unfortunately it can be quite damaging to your hair.
When you go swimming, both salt water and chlorine actually swell the hair cuticle, making it appear damaged and become tangled & knotty.
Intense Heat and Sun Exposure
Just like your skin can become sun damaged and sunburnt from prolonged exposure to the suns damaging UVA and UVB rays, your hair can suffer a similar fate from extended sun exposure.
Sun exposure can leave your hair extremely dry – especially when it's combined with the impacts of swimming and warmer temperatures.
Direct and intense heat from the sun can almost be as damaging to your hair as the application of heated hair-styling products!
Air Conditioner Harming Your Hair
On those blistering hot summer days, it's likely you spend half your time in the water and the other half inside in the air conditioning. However, did you know that prolonged time spent in air-conditioned rooms can be harmful to your hair?
Air conditioners not only blow cool air into a room, they also pull warm, humid air from the room, which removes essential moisture from the air.
The end result? A room with a very dry temperature that can cause hair to become frizzy, increase split ends, make hair more prone to damage and generally leave you dehydrated.

Protect Your Hair During Summer
Giving your hair some extra TLC during the warmer months doesn't have to be difficult or unattainable; there are some easy steps you can take to improve the health of your hair.
Apply a Hair Masque Before Swimming: Apply a hair masque with SPF before getting into the water. Once you're finished with your swim, wash your hair with fresh water ASAP.
Use a Deep Conditioning Treatment: Invest in a nourishing conditioning treatment from your favourite organic hair salon in Perth, Chilli Couture. Use it at least once per week to give your hair a much-needed boost.
Don't Brush Your Hair Too Often: Avoid over-brushing your hair, especially when your hair is wet, as hair brushing disrupts the cuticle and you can end up with significantly damaged hair.
Drink that Water: Keep your body hydrated from the inside out by drinking enough water each day. Adult women should be consuming at least 2.1 litres each day, while adult males should be consuming 2.6 litres.
Trust the Best Hairdresser in Perth – Trust Chilli Couture
At Chilli Couture, we have a team of passionate, highly skilled hair stylists in Perth that are committed to caring for you and your hair.
As an organic hair salon in Perth we are incredibly experienced in not only chemical free hair colour, but also overall hair care and health.
Pick up the phone (9328 8814), send us an email or fill in our booking form to chat to one of the team at Chilli Couture today about your hair care routine.
Find Us On Facebook & Instagram!