Shimmer Me Blonde!!!
June 18, 2017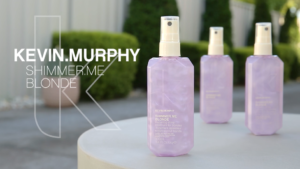 Soon to be arriving (mid June is the prediction) is the latest Kevin Murphy gem of a product!
Shimmer Me Blonde is a leave in repairing treatment was designed for you hot platinum blondes!
The pretty purple pastel in Shimmer Me Blonde refreshes and restores highlighted, blonde and grey toned hair colour.  It also counteracts the yellow and gold tones while leaving your tresses not only smelling yummy but giving it a lovely shine! This product can be used before and/or after styling. It will add elasticity and shine to damp hair pre blow dry or as a added shine boost for after a blow dry.
It's not just for blondes either, it works brilliantly on adding a shimmery shine on Violet and Pink hair colours too!
So keep your blonde looking fresh and bright between visits to Chilli Couture and enquire about Shimmer Me Blonde…we have waited so long for this product to hit Aussie shores and it was totally worth it!
How to use: Apply to damp, towel-dried hair or dry hair. Twirl before use. Do not rinse; leave to dry naturally or style as desired.
Benefits: Radiant shine, Counteracts Yellow and Gold Tones, Strengthens, Nourishes, Moisturises
Key Ingredients: 
RRP $42.95
http://kevinmurphy.com.au/product/shimmer-me-blonde/