Living with Hair Loss: From Alopecia, Age, or Genetics
January 19, 2019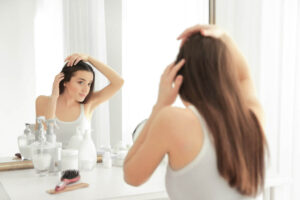 Human hair wigs applied by a highly trained salon professional can provide an effective and immediate hair loss solution, helping you to regain your confidence and get out there.
Although hair loss is deemed inevitable for some individuals through aging, non-aging hair loss is more common than you think. Here is everything you need to know about alopecia and genetic hair loss, and quality human hair replacement options you might like to consider.
Alopecia: The What, Where, Who and When
A condition involving hair loss, alopecia can affect one or several areas of the head, face or body.
One of the most common types of alopecia is alopecia areata, an autoimmune condition with onset typically occurring in childhood. It affects both males and females, all races, and will be experienced by around 2% of the general population at some point during their lifetime.
In alopecia areata, as with other forms of alopecia, the immune system attacks the affected hair follicles, preventing the hair growth stage from occurring. This results in patches of hair loss, most commonly on the scalp. The hair loss can range from mild to extensive, and for some individuals, all scalp hair will be lost (alopecia totalis).
The condition can be lifelong, but milder cases of alopecia areata commonly resolve over time.
Genetic Hair Loss
AKA ageing hair loss or androgenetic alopecia (the other most common type of alopecia), this is inevitable as you get older. Androgenetic alopecia, as the name suggests, is caused by genetics. Contrary to popular belief, the balding gene doesn't only come from the mother – it can come from either the mother or father.
In men androgenetic alopecia is often referred to as male pattern baldness, where the hairline gradually recedes and thins at the top of the crown any time from around the age of 20 – in some cases until there is complete baldness.
While a woman's hair will not recede as she gets older, it is normal for it to undergo thinning all over the head, which becomes most apparent from menopause (although you might notice a thinning of your ponytail from around the age of 30) – and explains why a combover is the go-to hairstyle for women in their 70s and 80s.
Hair Replacement Alternatives
Chilli Couture and Chilli's sister salon Mr Walker's Wiggery offer a variety of premium hair replacement options, from the finest ethically-sourced human hair weaves and wigs to top closures. Or you can rock the bald look. Either way is beautiful!
Perth's salon specialists in hair loss and hair replacement procedures, Chilli Couture handcraft beautiful custom-made wigs, weaves and top closures from real hair – to help you feel like yourself again.
Introduce yourself today and book in your FREE hair replacement procedure consult so that we can find the best wig option for you.
Find Us On Facebook & Instagram!