X-Factor Themed Hair Styles to Inspire your Next Look
July 15, 2019
Everyone deserves to look and feel good, no matter their age; a sentiment that extends from fashion to hair.
At Chilli Couture, we have so many amazing clients from different backgrounds, of different ages and with different styles, so it made sense to showcase the beauty we find in diversity.
In our recent photo shoot, we wanted to do just that, by showcasing some flattering, sexy and vibrant hairstyles on some Generation X women (40-55 years old), produced at Chilli Couture – the best hair salon in Perth.
Inspiration for the Photo Shoot
As a boutique salon, we're all about celebrating women of all ages and we believe it is so important to show that beauty is transcendent of age.
Across the beauty industry, the perception of beauty can seem narrow, skewed by the images and messages that businesses and brands put out on a daily basis.
As artists who deal with a variety of clients from all walks of life, we know that beauty is everywhere but unfortunately, we've found that women older than 40 are often ignored and forgotten, they become invisible to current fashion trends and hesitant to try something different because they haven't seen anyone who looks like them with the same style.
In an effort to make them realise their beauty and to assure them that we see them and appreciate them we have taken three gorgeous Gen X women who are at the peak of their power and given them a hairstyle that represents them.
There is No Theme
What we love about this theme is that there is no theme!
We have taken each model and looked at their personalities, how they see themselves and how they want to present themselves to the world: fun, sexy, vibrant and strong.
Three Hair Styles You Can Achieve At Home
The hairstyles are suited to both everyday wear and casual evening and the best thing is, they can easily be recreated at home!
Hairstyle 1: Kelly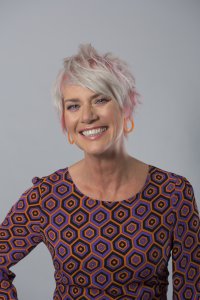 We created this soft texture with R+Co Aircraft texturizing mousse. To recreate this look for yourself, apply lightly to freshly washed hair and then finger dry using a low flow hair dryer.
Finish with some dry shampoo powder such as R+Co Skyline.
Hairstyle 2: Tara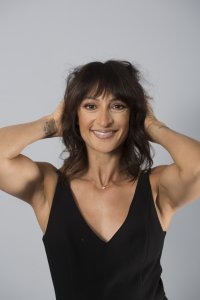 This style is really easy to create, blow-dry the hair either with a paddle brush or round brush depending on the texture of your hair, and then take vertical strips of hair and wind the mid section only around a tong backwards from the face.
Continue all around the head and then brush out into soft waves using a paddle brush, finish with a light texturizing dry shampoo such as R+Co Death Valley.
Hairstyle 3: Amanda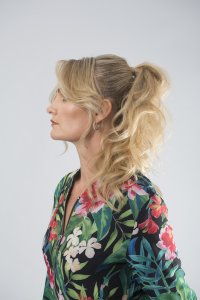 This is a great style to do as a quick up style for evening and can be done on either clean or unwashed hair.
Section the top section and pin away, take the bottom of the hair including the sides and pull back into a ponytail, secure with a band.
Release the top section and tease or backcomb lightly, spray with a texturizing dry shampoo such as O&M Desert Dry and brush over the surface lightly with your fingers.
Pull back sections randomly and wind around the base of the ponytail and pin into place, allow a few soft sections to fall around face.
Recreate These Looks At The Best Hair Salon in Perth
Trying a new hairstyle, cut or colour can be daunting, especially when you've never seen it on someone who looks like you.
At Chilli Couture, we love to push you out of your comfort zone; all while making you feel confident and incredible at our boutique salon in Perth.
Whether you're looking to recreate these styles in salon, or you're looking for a change, a chop or even just for a chat with an amazing hair stylist who cares about you and your hair, check out the best hair salon in Perth: Chilli Couture.
Visit our award-winning salon for a free, no obligation consultation today – we'd love to meet you!
Find Us On Facebook & Instagram!