Make a difference by helping others in need gain "Education for Life"
August 5, 2013

Make a difference by helping others in need gain "Education for Life"
Education for Life
 is an Intercoiffure Charity program with the object to raise charitable donations to keep the juveniles from the slums of this world from delinquency, prostitution, hunger and balefulness.
The charitable donations are used to finance the teachers, premises and the haircutter tools of the three schools in Brazil, the school in Romania and the school in Bosnia to give the juveniles a point of view, with a qualified graduation. Projected are more facilities in South Africa and the close collaboration with "Rudolf Walther Stiftung", to further the coiffeurs in their Children's villages – "Children future in cooperation with Education for Life".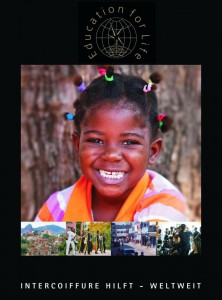 To help raise money for Education for Life we now a
donation box available at Chilli Couture
reception. All donations are much appreciated. Be sure to follow Education for Life on Facebook for all of the progress in how such a worthy cause makes a difference to peoples lives.
More information and the donations account can be found at 
www.intercoiffure.org
 under "social projects".